Living Social Daily Deal
Today on Living Social you can get a $30 gift certificate for $15 at Personilization Mall for a personalized item.
Use code Gift20 and get it for only $12
When our boys were born each year we bought them a personalized Christmas ornament having to do with some big event that happened for them that year.  This year I'm hoping to be able to buy an expectant mother ornament but it looks like this may not be the year.  I was hoping I could empty my diaper stockpile closet. There are also many other items that I will be getting for Christmas gifts.
Instead I'm getting this cookie jar for my mother with all of her grandchildren names on it.
~Cardinal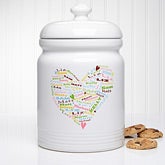 Want to get this deal for free?
After you purchase something, you can tell all your friends. Tweet, post to Facebook, or send your unique link to friends in an email. If three people buy that deal with your link, your deal is free!