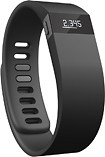 Fitbit Force 
Here is a great gift idea for all the health conscious people on your Christmas List
The New Fitbit Force
This Fitbit Force FB402BKS wristband lets you track steps taken, calories burned, stairs climbed, minutes of activity and more, as well as monitor the duration and quality of your sleep. The silent, vibrating alarm helps you wake on time.
Product Features
Measures steps taken, distance traveled and calories burned
As well as stairs climbed, minutes of activity and length and quality of sleep to provide a comprehensive picture of your fitness level.
Stopwatch and countdown functions
Help you keep track of your time.
Backlit digital LED display
Offers a clear view and allows you to easily check your stats in real time, even in low-light conditions.
Silent, vibrating alarm
Helps ensure you wake on time without disturbing others.
Small size
Ensures a comfortable fit.
Low-battery detection
Keeps you apprised of the wristband's power level.
Syncs automatically with select computers and mobile phones
For easy connectivity.