HUGE CVS MONEY MAKER!!!!  RUN!!!
Buy a Paypal Mastercard Debit card for $4.95 and add $150 on it, you will get $50 ECB back! You can use this card anywhere it is a Mastercard. BUT, it will charge you $4.95 a month, so use it right away.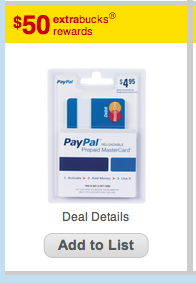 This is a deal that might be regional, to see if you have it, login to your account at CVS and look at the featured deals or the ECB deals and you should see if it is in your area. You will need to call and activate your card to be able to use it, again use it quick because it has a monthly fee.
Thanks Tiffany  from My Litter for this HOT Tip, and photos.