Need a Shed to store all your gas cans? With all the gas cans we have lying around I figured it is about time we get a safe place to store our free gasoline.
Sears has this Craftsman  storage shed regular price $269.99 on sale for $208.99 when you join the Craftsman Club (It's Free)
Then Shop Your Way Members earn points back on it  and redeem $10.00 in Surprise points  and you can earn 6% by going thru Ebates.
Stop & Shop also has Sears Gift Cards as part of 4x gas points making the deal even better!
Here's how I got this shed 
Step 1. Go to Stop & Shop and purchase $200.00 in Sears gift cards. You will earn 800 in gas points which is equal to $28.00 in FREE gas
Step 2. Be sure to Become a Client, pick  How to Shop for Free®  as your Personal Shopper do yo can earn points 
Step 3. Go HERE and add the shed to your cart
Step 4. Make sure you join the Craftsman Club so you see the pricing of $208.99
Step 5. Go to Ebates and type in Sears, then select shop now and it will take you to Sears and the shed will be in your cart and you can earn 6% cash back
Here's how it breaks down;
$269.99 regular price
$208.99 for joining the Craftsman Club
Used $10.00 in Shop Your Way Surprise points  = 198.99
I earn 6% cash back on the 198.99 is 11.93 = 187.06 (if you are new to Ebates you will get a free $10.00 gift card making it even sweeter!)
I get back $29.99 in Shop Your Way points = $157.07
and I earned 28.00 in gas for purchasing the gift cards = 129.07
---
Not sure what "Shop Your Shop Rewards" are? CLICK HERE to learn more before you get started!
Not a Shop Your Way member yet?
Become a Client, pick  How to Shop for Free®  as your Personal Shopper
Log into your existing account, Sign up for FREE 90 days of Shop Your Way Max – FREE Shipping – Here's how
Make Sure to check your email account for a welcome coupon
Start earning points to use towards future purchases and exclusive coupons every time you shop!!!
Join our Shop Your Way Rewards Freebies and Deals Facebook Group ~ Never miss a deal!
Order online and select FREE in Store Pick up or get or Free Shipping with Shop Your Way Max on Qualifying purchases!
How to Shop for Free®  Exclusive page on Shop Your Way Rewards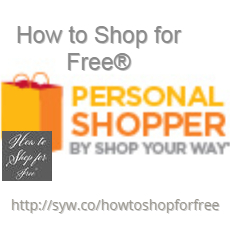 *This post may contain affiliate links. See our full disclosure  . Thank you for supporting How to Shop for Free®