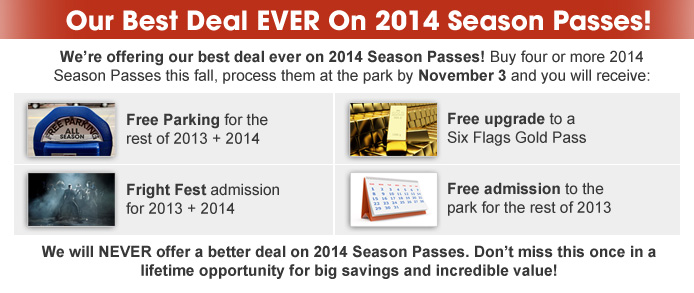 Six Flags 2014 Season Passes on sale now and they are good for the remainder of 2013
The Gold Pass will cost $54.99 per person wyb 4
They are good now thru 2014
You get FREE parking and can go to Fright Fest!!
Introducing the Gold Pass starting at $54.99 good fro 2013 -2014
Most Six Flags parks have just launched the new GOLD PASS which includes FREE free parking with every pass, good at all Six Flags Theme Parks. You'll also get VIP entry into the park and an extra
Bring-A-Friend Free ticket.
---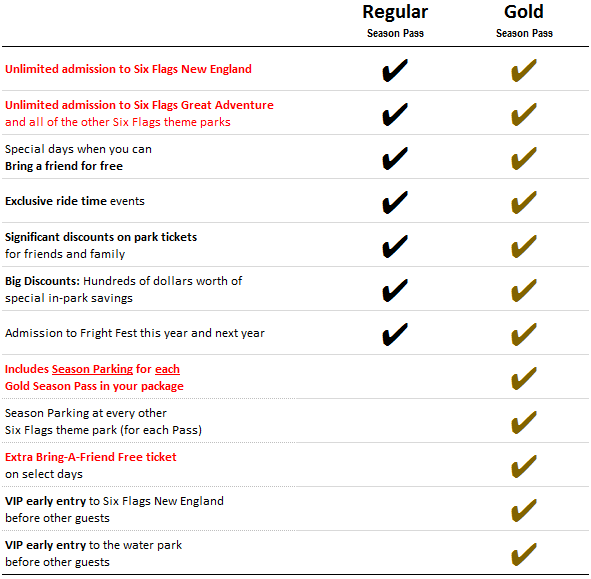 Top 6 reasons why a Six Flags Theme Park Season Pass gives you unlimited thrills all season long and so much more:
1. Pays for Itself
A Season Pass pays for itself in less than two visits.
2. Unlimited Visits
Come as often as you want, stay as long as you like. There are plenty of reasons to visit all year long, including new ride openings, concerts, water park fun, Fright Fest and more!
3. FREE Tickets for Friends
Pick up your Passholder Value Book on your first visit, with FREE tickets for friends to use on select days.
4. $300 in Park Savings
Receive over $300 in discounts on food, games, souvenirs and more.
5. Free Water Park
Seven of our theme parks have free water parks inside. Get two parks for the price of one!
6. FREE Admission to all Six Flags Theme Parks
Your Six Flags Theme Park season pass ID is accepted at 13 Six Flags parks.