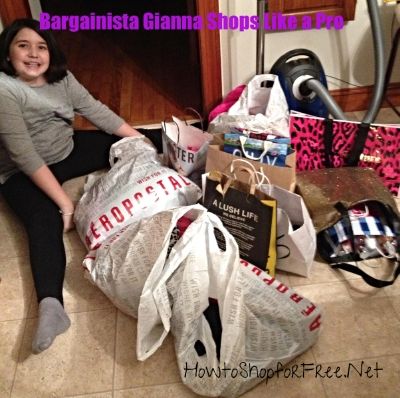 Welcome Newest HTSFF Bargainista  Gianna
There's a new kid in town and she's giving me a run for my money and get this… she is only 10 years old!!
Gianna went on a shopping spree with her moms cousin Jean and shocked everyone with her frugal skills and bargainista powers.
Gianna not only figured out the deals on her own she also knew to maximize them with coupons.
And did I mention she is just 10 years old!!
Here is a sample of what Gianna scored on her shopping spree
Gilly hicks bras original $20 for $6 at store closing sale.
Juicy Couture velour hoodie half price for $25
She shopped the clearance racks at Aeropostale  and got almost $800.00 in  retail value for $160. She scored big  in the "everything $3.99 and less bin" and used mobile an din store coupons.
A few of her favorite brags are ,  a lace trimmed top original 39.50 for only $4.00 and an adorable pink puffer vest regular 49.50 marked down to$15.00
Way to go Gianna you are one smart cookie !!!